Bamboo

Blinds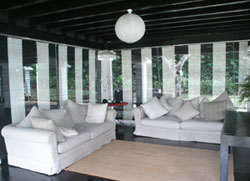 Bamboo Blinds Pte Ltd is proud to offer this Singapore made product to our customers and not in the least because we are probably one of the most cost effective suppliers.
The product is a beautiful handmade bamboo chick blind, varnished for outdoor use at both sides and customized to your size and requirements.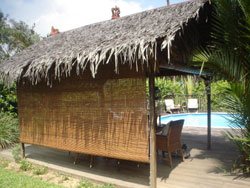 Our Bamboo Blinds are an elegant collection of popular styles to choose from: Natural, Black & White or any other color combination.
Each style has the option of additional backing, to get full weather protection or additional privacy. Backing comes in either transparent or various opaque colours, creating flexibility in designing window treatments. Our design comes with a solid integrated wood head rail which makes installation as easy as 1-2-3. Our cord lock and guided pulley ensures smooth and lasting operation.
Our blinds are suitable for as well indoor as outdoor environments and are traditionally used and very suitable for Black & White houses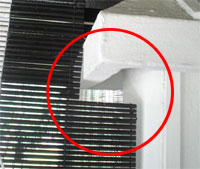 We offer the following services with the product:
Visit your home and advice on the kind of blinds for your unique situation;

Takes the measurements free of charge and with obligations;

Free detailed quotation based on the measurements;

Modifying angles to fit in any area;

Creating slopes for roof or uneven areas;
The price of the product includes everything:
Measurement;

Materials;

Preparation

;

Installation

;

Delivery (in Singapore).
All sheet sizes below 30 sqft will be charged @ 30 sqft per sheet and the minimum total order size is $180.00.
Removal and disposal of existing blinds according to Singapore Government regulations can be done for $ 20.- per blind
No hidden extra cost.