Fabrication

Process
How do we make our Bamboo Blinds?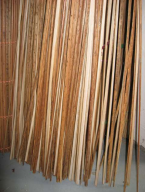 Our Woven Bamboo Shades (Bamboo Blinds) are an elegant collection of Bamboo Reeds. Designed with a solid integrated wood head-rail, installation is as easy as 1-2-3. Our multi-cord lock and guided pulley ensures smooth and lasting operation.
The Bamboo Blinds can be seen through, if you want more privacy they are also available with a backing. All our blinds are handmade in a small traditional factory in Singapore.
The manufacturing process is simple and therefore we are very price competitive and maintain a real good quality (our blinds can last for over 7 years in an outside environment).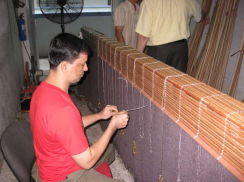 First the Bamboo Reeds are selected and cut in exactly the size you ordered. This might sound easy but we only import the best quality of reeds and we again select by hand the damaged ones out of the bunches to assure a strong and beautiful end product.
Our professional weaver does the rest and makes it a very nice product exactly the height you require. The reeds are put together one by one, and since this is done by hand the end result is much tighter and stronger then the machine made products because we can take care of the irregularities the natural product always has.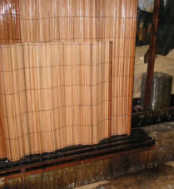 In order to protect the blind against the sun and the rain it will be double varnished (both sides) and let to dry. This process is extremely important because it basically determines the amount of years the Bamboo itself will last. We use very special varnish, the same type used on luxury yachts to protect the deck from the sun and the seawater!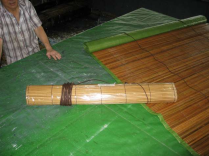 Some people prefer backing and that is done on a special table (the picture shows transparent pvc backing and green backing). Backing could be useful if a 100% blockage of rain is required or the blinds are also used for total privacy reasons.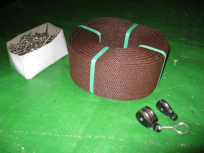 To make sure the weakest point are not the cords and the pulley systems we only use the best materials available.These systems are already attached on the blind, installation only requires drilling holes and attach the plug and screw in the hooks. Of course in Singapore the installation is included in the price. For our overseas customer all installation materials will be send together with the blinds.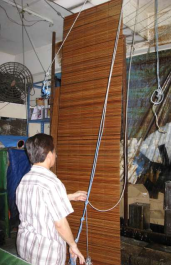 For people who prefer Black and White blinds we hang the blinds in the air and paint them with two coatings of premier brand paint. In general we can paint in any colour you require, so these blinds are also ideal for inside and can be matched with the existing colour scheme.